You don't just want your wide plank flooring to look good this season, do you? Of course not! You want it to look good 6 months from now, and next year, and the year after that! Well, throughout each year, the wood will endure changes. So if you want a long-lasting wide plank floor, you need to plan for those shifts.
The first way that you can prepare for shifts in moisture levels is to allow for initial acclimatization, when the boards first arrive on site. Sticker and stack the wide planks in the room into which you'll be installing them. As they come into equilibrium with their new environment, they'll reduce the amount of movement they'll experience after installation. Depending on how different your climate is from the climate from which the boards were shipped, the acclimatization period may be longer or shorter than you'd expect. (You can always ask your lumber supplier for a recommendation.)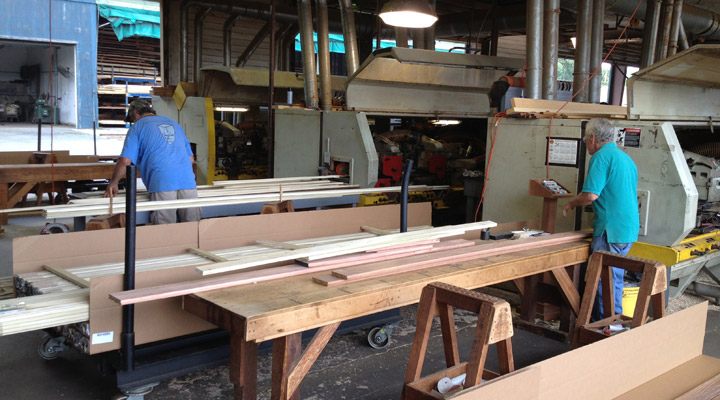 As you endeavor to determine the proper time period, take the sub floor into consideration. Whatever technique you plan to use in order to fasten and control moisture, the tongue and groove joint will allow for movement across the widths of the boards — provided you include an expansion gap, that is. (And yes, an expansion gap is absolutely necessary!)
Many patterns include an undercut shoulder where the plank can be toe-nailed onto the sub flooring. This method serves to anchor one side of the board, while pushing the movement to the other. The result is closing or opening the gap with the other board. If a particular client would prefer not to see gaps, you could opt for a floating floor that will expand and contract altogether as a single unit. You'll still need to include an expansion gap, only this time it will be at the edge of the room, camouflaged by shoe molding. Realize that a floating floor can still fall prey to buckling and unevenness, since not all boards will move uniformly.
The ideal solution to these movement-related issues is to incorporate a humidity-control system particular to the room in which the wide plank flooring will be installed. Although expensive, such an addition will protect the investment of the wide plank flooring. Such a system will help maintain a constant level of moisture in the room throughout the year, serving to all-but eliminate any movement, whatsoever.
If nothing else, hopefully you now realize why quality wide plank flooring is reserved for the most prestigious homes and businesses. With careful planning and coordination with a lumber supplier who can help you understand movement issues specific to the species you select, you can install a premium wide plank wood floor that looks as stunning as it will be lasting.